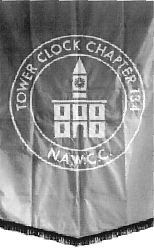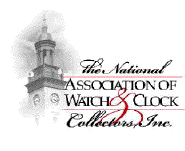 ---
Tower Clock Chapter #134 is a
Special Interest Chapter of the
National Association of Watch and Clock Collectors.
Chapter Officers - 2014
President:
Russ Oechsle
5 Clinton Street
Homer, NY 13077-1103

Vice President:
Don Bugh
4575 Sandpiper Cove
College Station, TX 77845

Secretary/Treasurer:
George S. Hudson
15217 Tanyard Road
Sparks, MD 21152
Tel: 410-472-0807

Newsletter Editor:
Frank Del Greco
13730 Braeburn Lane
Novelty, OH 44072
Tel: 440-338-8261

About Chapter #134
Chapter 134 was chartered in 1985 to satisfy a need for those of us who are fascinated by those huge old clocks, once known as "everyone's pocket watch". The members of this Chapter are scattered all over the country and the world, in contrast to the more usual geographical centering of a Chapter's membership. The majority of tower clocks (known in England as turret clocks) are also widely scattered, and are rather difficult to collect.

The Chapter holds regular meetings in conjunction with three Regional or National Meetings of NAWCC, as follows:
the Southern Ohio Regional (at Ft.Mitchell, KY, in April)
the National Convention (place varies from year to year; in June)
the Eastern States Regional (at Syracuse, NY, in August)
An important activity of the Chapter is NAWCC's Public Time Initiative, currently in Phase IB as the Spot-A-Clock project. Contributions to this project from the public are now welcomed.
The background of this page illustrates the clock tower at NAWCC's Headquarters and Museum building in Columbia, Pennsylvania.
Becoming a Member of Chapter #134
To join the chapter, you must first be a member of NAWCC. Then send to our Treasurer (see the list of Chapter Officers above) your NAWCC Member Number along with your dues, which at present are $10.00 per year. Anyone with an interest in tower clocks is welcome.
Benefits of chapter membership:
-> A newsletter, Tower Talk, is published occasionally. The August 2012 issue (#15) has 12 pages, which contain three major articles plus two short articles plus reports from chapter officers. There are seven photographs, six of which are in color.
-> Online publicity for your business or interests which relate to tower clocks; see the Members page. You can include as little or as much information as you wish (subject to the discretion of the Note that email addresses are obscured by special coding so that you need not fear the possibility of their being harvested by Webcrawlers for nefarious purposes.
---
Tower clock information elsewhere on the Web:
---

This page was originally designed for Chapter #134 by Donn Haven Lathrop.
After re-hosting, it is now being maintained by
Carl Scott Zimmerman.
If you have any comments or suggestions,


This page was last revised on 19 September 2014.